DERMAL FILLERS - WRINKLE REDUCTION AND SKIN REJUVENATION
Brief Overview
Dermal Fillers - Wrinkle Reduction and Volume Restoration
The wrinkles in the lower part of your face are caused by multiple factors including the loss of collagen and fat. This results in saggy skin. There are two ways to correct these lines and hollows using dermal fillers to fill lines and Botox to relax the facial muscles.
This same procedure can be used to enhance your lips and give you a fuller, more luscious lip line. Thin lips are often a result of genetic make-up. Advancing age also causes loss of volume in the lips.. Sometimes, you may wish to enhance our lip line, plump up our pout or improve our overall look and that is now possible with cosmetic dermal filler Injections.





About Facial Wrinkles
One of the evident signs of aging is wrinkles. The individual's skin cells divide at a slower rate and the skin deteriorates. Wrinkles emerge in part because natural substances in the skin such as collagen, hyaluronic acid and elastin, decrease. Moisture retention diminishes, oil-secreting glands collapse and skin consequently becomes dry and scaly.

The most common forms of wrinkles include frown lines which occur between the eyebrows and crow's feet, that is, lines that emerge from the corners of the eyes. Individual who are more animated, have unhealthy lifestyles and diet as well as prolonged periods of sun exposure tend to develop wrinkles at a faster rate. The best way to prevent wrinkles is to avoid prolonged periods of sun exposure, moisturise regularly and have a healthy lifestyle through proper diet and exercise.


Solution for Ageing and Wrinkles
Injectable dermal fillers are used to treat static wrinkles, that is, wrinkles when the face is at rest. Injectable dermal fillers are placed beneath the wrinkle and/or fold to 'fill in' or 'plump up' the depression. The areas most commonly treated with dermal fillers include nasolabial folds, marionette lines and vertical lip lines. In addition to the treatment of wrinkles, injectable dermal fillers can also be used to create volume and definition of the lips. Dermal fillers are administered through a few injections by a trained medical doctor. Normal activities can generally be resumed immediately following facial injections.





Benefits of Dermal Fillers

• Immediate results
• Fuller Lips
• Enhanced lip lines
• Youthful appearance
• Wrinkle Reduction
• Forehead and frown lines reduced
• Crows' feet and eye circles eliminated
• Enhance Cheeks and Jaw line
• Cheek Dimples filled out
• Fill out nasolabial folds and 'bunny' lines
• Fill the skin with naturally occurring hyaluronic acid
• Minimal downtime
• Quick procedure
• Dermal fillers administered by experienced doctor






© 2012 Caribbean Aesthetic and Laser Institute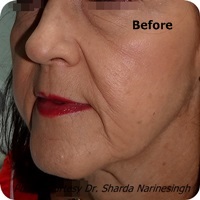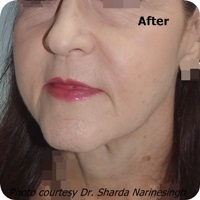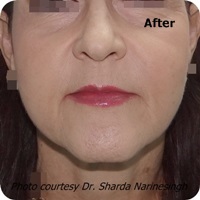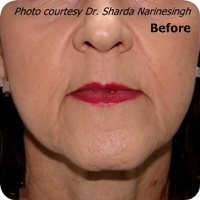 Don't wait any longer to experience smooth, youthful skin with cosmetic dermal fillers! Dr. Narinesingh uses the most advanced technique available worldwide. She uses microcannulas instead of needles to introduce the filler into the skin resulting in a much more comfortable experience and less bruising after. Dr Narinesingh has years of experience and creates natural looking results. Your friends will know you look years younger but not know why! Cosmetic Dermal Filler injections are not just used as an Anti-Wrinkle Solution, they are also used to plump up thin lips, enhance or restore your lip line or give you that natural pout you are looking for.


Email: info@cali-tt.com

868-396-5601


"Like us" on Facebook
CLICK HERE!